Unique free app for mass and public communication
In the present scenario many options are available for networking and chatting in real time. But when it is required focused functionality of reaching quickly to unlimited followers or just to remain in touch with people or matter of one's interest without getting misplaced or lost in ocean of information and chats, hardly any option is available.
Global Board is user friendly app to express and follow your interest simply and globally without undesirable communication noise. It fulfills your social media needs for explicit communications and complement existing social media presence.
Virtual notice board
Business owners, organizations, communities, individuals can use Global Board to promote their product, service, send information, news, article, announcement and updates without any additional cost.
One can send updates, share information or make announcement for followers by creating board and simultaneously follow board of interest to receive updates. It is very simple to install Global Board.Ones installed, you can send and receive post in multiple forms. It uses internet connection: Wi-Fi/3G/EDGE to send and receive posts.
Reach unlimited followers
It is very instant and simple to create a board by giving appropriate ID, once it is created make board ID public for interested people to start following it.
Board owner can set their profile including owners and organization name, contact details, photo etc. These details are shown when any one visit at your board and also visible to followers.
Maximize board usage with its dynamic functionality
Multiple boards are possible in single account. It is also possible to give and take posting right to selected users if required. Board owner can transfer ownership of board and even delete it if not required. This makes Global Board very dynamic platform for use in complex organizational and business environment.
Depending upon the purpose one can control reach of information by selecting type of board as public or private. Public board can be followed by anyone (unlimited users) anonymously. Private board can only be followed by selected users chosen by board owner.
Free from annoying communication noise
Unlike most of the social media apps, board name are not discoverable using free text search. This has been kept purposefully to have only serious followers who are genuinely interested.
Global Board is for "one to many" type of communication created with focused functionality of sending and receiving information, announcements, news etc., followers can respond in predefined options only. This makes Global Board free from negative, abusing and spamming communication noise.
Remain in touch with your interests
Interested boards can be followed by using board ID or its QR code without revealing identity as followers are completely anonymous to board owners. This ensures complete privacy to followers and prevents them from undesired approaches.
Unlike other social media apps in which one is included without permission or invited to join, in Global Board user has full control over follow and unfollow instantly depending upon their interest.
Global Board automatically check updates at regular intervals and notify user. Alternatively manual refresh is available for user convenience.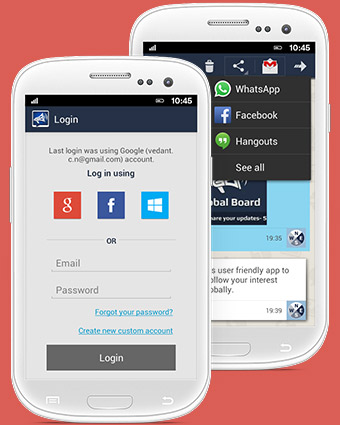 Very easy to join and user friendly in operation
It is almost instant and simple to start using Global Board. Download it form App store, log in using either your existing Google/Facebook/Microsoft account or register using your email address. Once logged in, Global Board does not ask any further information, instantly start following board of celebrity, organization, institute, favorite brands etc.
Global Board is always on and regularly checking and notifying of new posts till user logs off.
Board owner can share information or make announcement by sending any kind of text, video, image and other non media files like PDF, ZIP, DOC, PPT etc on global Board. This simplicity of sharing and sending regular updates enhances constant engagement of followers.
Provide useful statistics
Feedback is one of greatest sources of learning. To have feedback in most understandable and useful manner, Global Board provides four options to rate any post or announcement as Null, Well, Super and Excel. Board owner can visualize summary of feedback given by followers. Summary can be transferred through email for further use.
Unlike comment based feedback or opinion collection this new approach of structured feedback collection provides useful tool to compare response between two different posts specifically and quantitatively. With Global Board one can solicit quick feedback related to product, service or other organizational requirement to support advancement of business and organizational objectives.